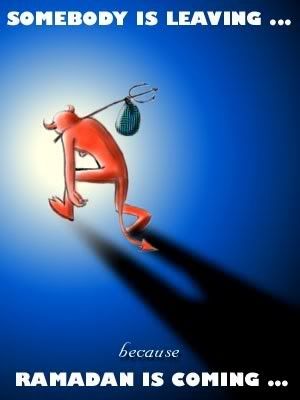 Salaam Aleikum!
Ramadhan has started today in Dubai ...
so yeah Ramadhan Kareem everyone! :)
hope everyone has an awesome ramadhan! and may everyones prayers be
answered and sins forgiven, InshaAllah!
remember tis the month when your thawaab is multiplied by a hundred times (and so are your gunaahs!!!)
i havent blogged for so long ... so heres news :
*school has started and now im in the 10th grade *proud* -_-
and we have just 3 new kids in class ... its all the same nothing has
changed much except for a few teachers ...
now that Ramadhan has started school is gonna start late & finish
early yay!
*and madressa has started too ... but now we're 'Sr. 5' were not
'teachers training (2nd year)' anymore :( yeah hehe but whatever ...
and we have this really nice new teacher ... shes cool
*got back from Iraq last Friday
it was great and we did ziyarat really araam sei and it was Shaban so we even had meelads and stuff ...
and it was a beautiful sight on the Shab of 15th Shaban
*and the worst news of all ...
life has become just the same ... back to the same old boring routine
THIS SUCKS!!! :( :( :(
khair ...
Ramadhan Kareem once again
Wassalaam,
skoon :)