it really is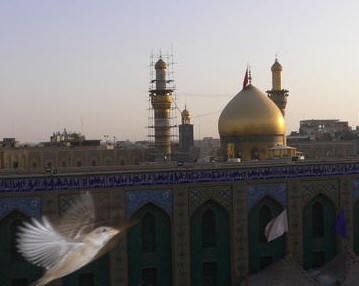 Last night, I was watching the Kerbala ka video ... which i took last year on Arba'een ...
its been a whole year since i last went for Ziyarat =[
I miss it ...
Inshallah Im going to Kerbala this year for 15th Shabaan .. *yay*
I cant wait ... its a totally different experience ... going to Kerbala and being able to do Ziyarat of the Shrine of Imam Hussein (AS) .. PLUS we're going by ship
it certainly IS Heaven
we're leaving on 3rd Sept and coming back on the 17th ...
so ill be missing a week of school ...
yeah ...
--------------------------------------------------------------------
okay ... so i ususally write ALOT in my diary when i go there ...
so Inshallah inshallah im gonna make a new blog ... for the Kerbala ke trips ...
its title will be 'The Kerbala Diaries'
nice na? any other ideas?
and im gonna be posting in it before we leave for Kerbala ...
y'know ... counting the days and how much im waiting ..
and if i find a net cafe there i will try to post FROM Kerbala ... <3
so yeah pray that this idea works out!
and MAYBE ... Sana will be a contributor in the blog ... IF she agrees =]
-----------------------------------------------------------------------
yay i made the kerbala ka blog! =]
The Kerbala Diaries